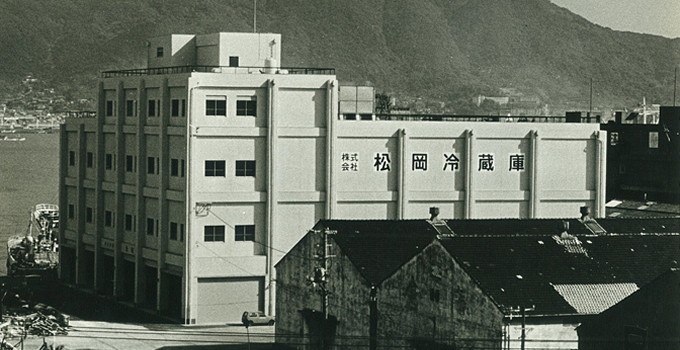 the starting point of Matsuoka - The first refrigerated logistics center (1973)
Since its establishment in 1950, Matsuoka Co.,Ltd. has enriched a culinary culture of people everywhere through its operations in vertically integrated Cold Chain Logistics and Seafood Business.
When it comes to logistics, we make use of techniques fostered over our 60-year history in the business to meet the needs of our customers' diversifying and increasingly sophisticated needs. With our Cold-Chain Logistics Service and our nine domestic modern refrigerated logistics centers, including our newest location at Tokyo Bay, we're increasing customer satisfuction and contributing to businesses throughout the region.
About Our Services
We offer an integrated general logistics service adapted to IT solutions from start to finish.
| | |
| --- | --- |
| At Our Centers | We provide customers with a logistics system with out Transfer Center (TC) and our distribution Center (DC).We offer streamlined total logistics services from upstream to downstream (start to finish) phases including food-processing, based on our nine domestic logistics centers. |
| 3PL Operations | By reviewing all of our customer's logistics based on our unique know-how, we assist in optimizing all logistics processes to maximize efficiency and reduce costs. |
| Transportation And Delivery Service | We have networked all of our logistics centers to meet diversified customer needs for customized logistics services including small volume delivery, chartered transportation and store deliveries. |
| Distribution Processing | We provide logistics services for a wide range of distribution processing, including packing, inspections and boxing, in order to raise the values of goods. |
| International Multimodal Transportation | By utilizing our logistics network, we offer a full range of the combined use of plural transportation (marine transportation, air transportation) connected closely with import, export and domestic transportation. |
| Customs Relations | We support our customers' overseas endeavors by assisting with customs clearance for imports and exports. |
| Environmental Initiatives | From free planting to implementing LED lighting and changing our coolants from Freon gas to ammonia, we take aggressive steps to protect our environment for future generations. |