Processing For Distribution
Tokyo Bay Logistics Center Sampling Room
Our logistics centers host many sampling rooms. In building and put them into operation we have implemented the highest standards regarding human safety and health. This has gained high praised from our clients who have seen their request of having an appropriate space for sampling the goods thoroughly accomplished.
The newest sampling room was built in the Tokyo Bay logistics center in November 2013.
The sampling room is fully fitted with the wide variety of equipments necessary for the defrosting, sample pick-up, and testing of beverage products, in addition to carrying out accurate inspections of frozen and chilled foods.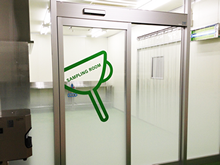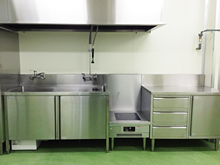 Blast Freezing (Tokyo Bay Logistics Center)
Whether your produce meat (such as poultry, pork and beef) is seasonal, you are required to build strategic stocks in response to changes in the market. We make it possible for customers to ensure stable supplies and provide quick freeze your products including marine products down to minus 35 degrees C.
Capacity of air blast freezing: 40tons in a single day.
We operate two separate air blast freezer rooms. (20 tons x two rooms)
Floor space: 76 square meters.
102 palettes (51 palettes each room)